At the Factory
Your Craft Master Growler has been pre-cleaned at the factory with a Tri-Sodium Phosphate (TSP). If you choose to pre-clean yourself with TSP (as is common in the foodservice industry for new stainless-steel products) follow manufacturer's recommendations, use a soft terry cloth, rise thoroughly, then dry.
Prior to first use
We recommend prior to initial use to wash the interior of your growler with the provided packet of PBW (0.75 oz per gallon.
(Powdery Brewers Wash (PBW) is a patented alkali cleaner originally developed for Coors and now widely used by breweries and the recommended cleaner by brewing related stainless-steel equipment suppliers. Safe handling instructions are below
PBW (Powdered Brewery Wash) SAFETY CONSIDERATIONS
WARNING: Causes skin irritation. Causes serious eye irritation.
FIRST AID: Never give anything by mouth to an unconscious person. If you feel unwell, seek medical advice (show this label where possible). IF INHALED: Allow victim to breath fresh air. All the victim to rest. IN ON SKIN: Wash with plenty of soap and water. Wash contaminated clothing before reuse. If skin irritation occurs: Gently wash with plenty of soap and water. If eye irritation persists: Get medical advice/attention. IF IN EYES: rinse cautiously with water for several minutes. Remove contact lenses, if present and easy to do so. Continue rinsing. If eye irritation persists: Get medical advice/attention. IF INGESTED: Rinse mouth. DO NOT induce vomiting. Obtain emergency medical attention.
PRECAUTIONARY STATEMENTS: Wash hands thoroughly after handling. Wear protective gloves, eye protection. If on skin: Wash with plenty of water. If in eyes, rinse cautiously with water for several minutes. Remove contact lenses, if present and easy to do. Continue rinsing. Specific treatment (see FIRST AID on this label). If skin irritation occurs: Get medical advice/attention. If eye irritation persists: Get medical advice/attention. Take off contaminated clothing and wash before reuse.
Firefighting Instructions: Use water spray or fog for cooling exposed containers. Exercise caution when fighting any chemical fire. Prevent fire-fighting water from entering environment.
Suitable Extinguishing Media: Foam, dry powder, carbon dioxide, water spray, sand.
Precautions for Safe Handling :Wash hands and other exposed area with mild soap and water before eating, drinking or smoking and when leaving work. Provide good ventilation in process areas to prevent formation of vapor.
NON-WARRANTY: Manufacturer or seller makes no warranty, express or implied, considering the of this product other than the purpose indicated on this label. Manufacturer or seller is not liable for any injury or damage caused by this product due to misuse, mishandling, or application not specifically described on this label.
KEEP OUT OF REACH OF CHILDREN
Emergency telephone: Infotrac 1-800-535-5053
Cleaning The Growler
Rinse your growler by filling it to the top and then emptying halfof the water. Shake the remaining water around inside the growler and pour out the rest.
Add the packet of PBW to the empty growler, and re-fill with warm water, replace the cap and shake (cartridge holder can be washed separately. Caution: warm water and PBW will create pressure inside the growler! Prior to opening either open the tap (recommended) or pull the zipper tab on the safety valve to release the internal pressure!
Let the solution sit for 30 minutes.
Remove cap and empty your growler (if you hold the growler with the tap facing down, some water will also run from the tap.
Fill the growler with clean tap water and rinse thoroughly.
Allow the growler to dry with the cap removed prior to the first filling.
Sanitizing Your Growler
Sanitize with Star San or another acid-based sanitizer as per the markers recommendations as part of your regular cleaning regiment. This has the added benefit to establish a uniform passive oxide layer that will maximize corrosion resistance.
Storing Your Growler
Beer and beverage residue not thoroughly cleaned leaves organic and nonorganic residues and microorganisms. The better your growler is cleaned the less chance you will have microbial growth (such as mold).
Your growler is air tight, so stored with the cap off or loose will help reduce the surface population of microorganisms. Rinse your growler thoroughly with water prior to each use. You can purchase individual pre-measured packets of PBW for an occasional cleaning or if the growler has been stored for a long period of time. It is recommended you sanitize with Star San, or similar prior to filling.
Tap Cleaning
A common problem with beer taps of every type is dried beer residue is sticky. If your tap is stuck, the golden rule is not to use excessive force to try to open the tap as this can damage your tap. Preventive maintenance is best, which is thoroughly rising the tap, including holding it under the sink and opening and closing the tap. If the tap is stuck rising under hot water should open the tap. If not, then you can remove the neck nut, take off the tap and soak it in a bowl of PBW. Then rise thoroughly.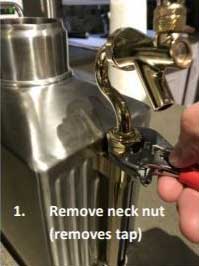 Sight Level Cleaning
If you unit has a built-in tap, included is a sight level. With thorough rising and sanitizing after use, you won't need to take the sight glass apart. If you do, the level, and the tap, can be more thoroughly cleaned by occasionally completely removing the Neck Nut and following these steps.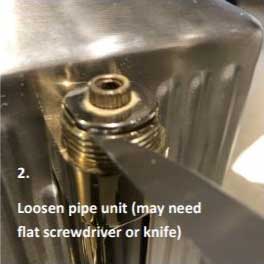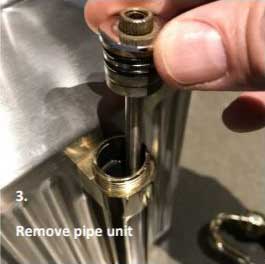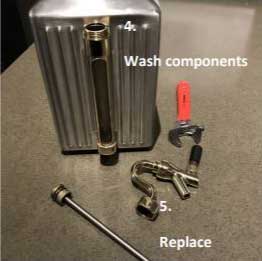 Be mindful that if the unit is not sealed properly when replaced, there is a potential for gas leaking. This will be fairly obvious the next time the growler is pressurized (it might leak gas or beer). However, removal and replacing is fairly straightforward. Components should slip easily into their original position without force, and the neck nut tightened by hand until the last couple quarter turns with a crescent wrench to seal the gasket to the top of the pipe unit.
Caution
Do not use chlorine bleach or chlorine-based products which can damage your growler's surfaces. Do not use Scotch-Brite pads or stainless-steel scrubbing pads on the interior or exterior as these will damage the surface and potentially produce rust. Use soft terry cloth.
Exterior Care Of Your Growler
Exterior surfaces can be polished with household appliance stainless steel and brass polishing products as per the manufacture's recommendations. Always use only soft cloth.