Pressurized Growlers Keep Your Beverages Fresh, Not Flat
Most of us are painfully aware of shelf life when using a regular growler. This is why we created the Craft Master CO2® pressurized growler. Our 64oz and 128oz growlers use food grade CO2 cartridges with our patented regulator cap to pressurize, preserve, and even infuse CO2 into your beverages to maintain carbonation and freshness. Each growler is a heavy-duty, commercial grade piece of equipment that would easily withstand years of abuse in the Food Service industry. With its space saving square design and swivel tap you can easily store & pour beer & beverages right from your refrigerator door. Simply put, every Craft Master CO2® Growler is an elegant piece of hardware that will keep your beverages fresh and last a lifetime.

"While many companies have produced growlers that can pump beer directly from the growler, many even with CO2 add-ons, Craft Master's is the first that truly seems to capture the essence of what getting a beer from a taproom, bar or restaurant means to consumers"

"The growler works really well overall. Beer pours flawlessly and everything stays fresh and of course, carbonated throughout the entire growler's lifespan. It's great because you can use small plastic cups or tumblers and do small 8-ounce pours at a time. I can't think of an easier way to share beer with my friends."
Why Choose A Craft Master CO2® Pressurized Growler?
Every aspect of the Craft Master CO2® Growler has been carefully designed for performance and durability. From its modern ergonomic shape to its forged stainless steel handle, the Craft Master CO2® Growler has been engineered to meet the needs of the most discriminating beer & beverage drinkers on the planet.
Swivel Tap
Ultra high quality, spring loaded, and silky smooth. This solid brass tap pours beverages at any angle, just like your favorite brew pub!
Learn More
Sight Glass
Intuitive sight glass keeps your liquid level in sight. Solid welded on brass (not bolted) provides a lifetime of durablility.
Learn More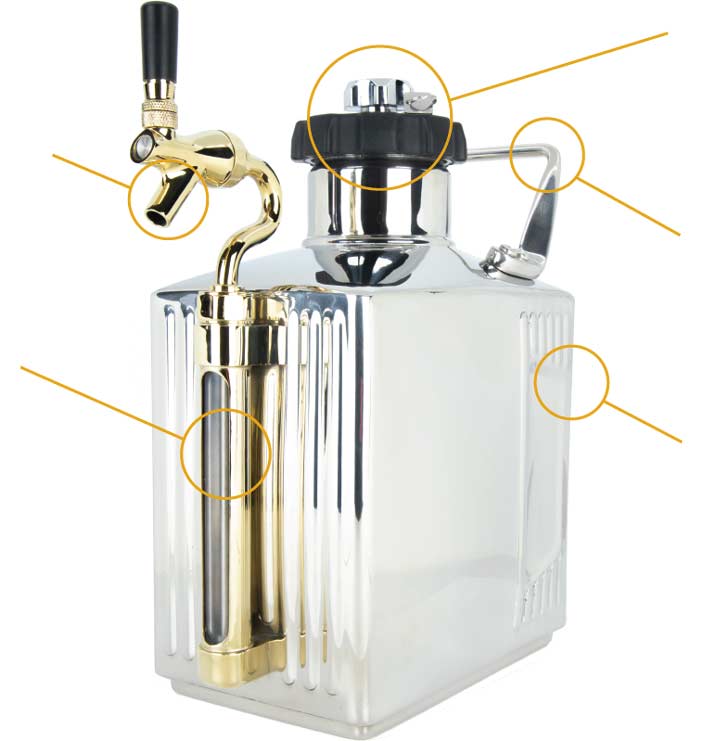 ---
---
---
---
What Our Customers Are Saying

I originally purchase your growler to use for our local craft scene. I loved it, and it was always a huge hit at the brewpubs. I decided these were a perfect company gift for my clients so I've given out three so far. My clients are very impressed and the feedback has been fantastic. If you want a unique gift for a beer lover, this is it!
Chris Neathamer - Vancouver, WA
---

Just wanted to let you know the the growler arrived and I couldn't be happier...My husband really appreciates the craftsmanship and artistry, and this growler hits both marks. It has been a pleasure to interact with you and your company. Your customer service was beyond compare: helpful, thoughtful, and generous. How sweet of you to throw in the bottle opener. Thank you so much for everything, especially making me look like an awesome gift-giver!
Pamela Thompson - Bizbee AZ